Main information:
Neuschwanstein Castle
Salon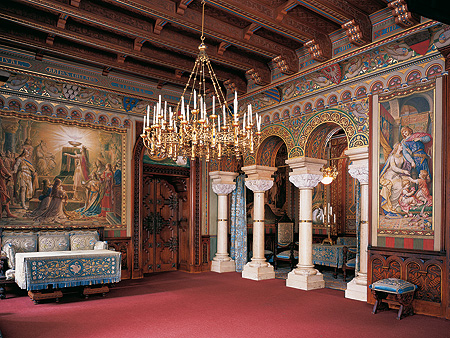 The L-shaped salon has an alcove furnished with chairs and separated from the rest of the room by columns. The large oak cupboard is modelled on an item of furniture from the Wartburg and is decorated with scenes from medieval poems.
The murals in this room show scenes from the Lohengrin saga,, which Ludwig II identified with in particular on account of the Grail Knight theme and the swan motif.
The swan was also Ludwig's heraldic animal as a Knight of Schwangau. As in the bedroom, the curtains and coverings are made of blue silk and embroidered with swans and lilies. There is also a container for plants or flowers in the form of a large majolica swan by Villeroy & Boch.
---