Main information:
Idea and History
Swan Knight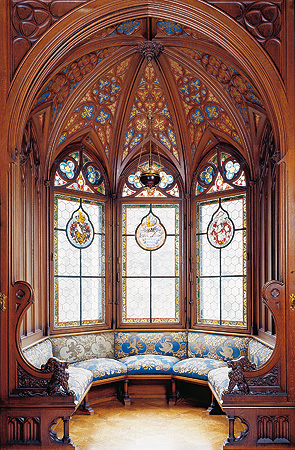 Oriel in the bedroom: stained glass windows
with the Wittelsbach, Bavarian and Schwangau
coats of arms, upholstery embroidered with
crowns, lions, swans and lilies
In Neuschwanstein the late romantic concept of restoration, which makes a further appearance in 1883 in Ludwig's plans for Falkenstein Castle, is combined with the idea of a new castle of the swan knight Lohengrin. The knight's heraldic animal, the swan, had already featured as a leitmotif in the castle built by Ludwig's father, a building which had had a substantial influence on the development of Ludwig's artistic tastes. The swan was also the historic heraldic animal of the knights of Schwangau. Maximilian saw himself as their successor and adopted their coat of arms. His son followed suit, and the swan thus also features as a heraldic animal in Neuschwanstein; it is sometimes used in combination with the medieval coat of arms of the Pfalzgraf bei Rhein, a title still held by Ludwig, and the lozengy of the royal coat-of-arms of Bavaria.
Ludwig II had been familiar with the Lohengrin legend since he was a child from the murals of his father's castle. He was introduced to Wagner's "Lohengrin" on 2 February 1861 in the Munich Court Opera House and was captivated. Thus, in the course of time, Ludwig II came to see himself in typically romantic fashion as both a real knight of Schwangau and the fictitious swan knight Lohengrin, while always remaining fully conscious of himself as the ruling king of Bavaria.