Main information:
Neuschwanstein Castle
Interior and modern technology
Neuschwanstein illustrates the ideals and longings of Ludwig II more vividly than any of his other buildings. The castle was not designed for royal representation, but as a place of retreat. Here Ludwig II escaped into a dream world – the poetic world of the Middle Ages.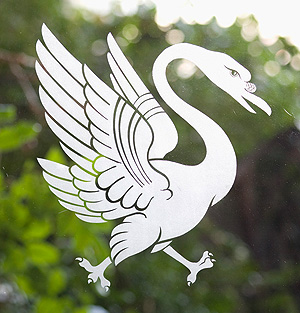 Swan motif at the door to the conservatory
The picture cycles of Neuschwanstein were inspired by the operas of Richard Wagner, to whom the king dedicated the castle. The pictures were not however directly modelled on Wagner's works, but on the medieval legends that the composer had also taken as the basis for his works.
The pictures on the walls of the castle deal with love and guilt, repentance and salvation. Kings and knights, poets and lovers people the rooms. There are three main figures: the poet Tannhäuser, the swan knight Lohengrin and his father, the Grail King Parzival (Parsifal). These were Ludwig's models and kindred spirits.
A further leitmotif of the interiors is the swan. The swan was the heraldic animal of the Counts of Schwangau, whose successor the king considered himself to be. It is also the Christian symbol of the "purity" for which Ludwig strived.
Religious and political ideas were involved in the planning of the castle. This can be seen in particular in the throne hall. The paintings here show how Ludwig saw kingship "by the Grace of God": as a holy mission, with powers that the Bavarian king had never possessed.

Throne hall, apse
Modern technology in medieval guise
In Neuschwanstein the Middle Ages were only an illusion: behind the medieval appearance of the castle the latest technology was in operation and every comfort was ensured.
The rooms of the Palas, the royal residence, were fitted with hot air central heating. Running water was available on every floor and the kitchen had both hot and cold water. The toilets had an automatic flushing system.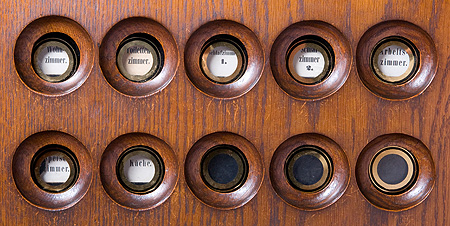 Electric bell system
The king used an electric bell system to summon his servants and adjutants. On the third and fourth floors there were even telephones. Meals did not have to be laboriously carried upstairs: for this purpose there was a lift.
The latest technology was also used for the construction process itself. The cranes were driven by steam engines, and the Throne Room was incorporated by means of a steel construction. One of the special features of Neuschwanstein is the large window panes. Windows of this size were still unusual even in Ludwig II's day.