Main information:
Neuschwanstein Castle
Dining room
The apartments of Ludwig II are entered through the oak-panelled anteroom on the third floor. An electric bell system was installed in 1885 so that the servant on duty here could be summoned from any other room.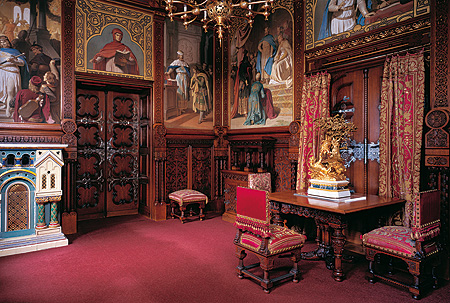 Wolfram von Eschenbach and other minnesingers feature in the dining room murals, which are framed with oak panelling decorated with bas-relief carvings. On the dining table is a centrepiece in marble and gilt bronze, which shows Siegfried fighting the dragon. As in all the king's rooms, the textiles are very elaborate; here they are made of red silk with gold embroidery and trimmings.
---