Main information:
Neuschwanstein Castle
Bedroom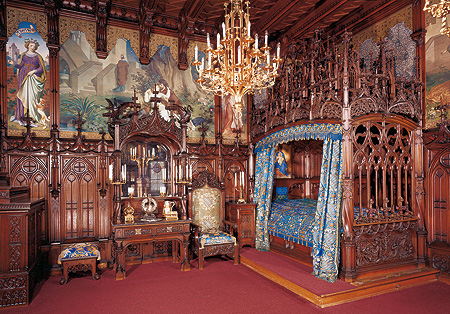 As in all the residences of Ludwig II, the king's bedroom is particularly sumptuous. The leitmotif is the legend of Tristan and Isolde, and the two main characters feature not only in the murals, but also in the carvings on the door and the ceramic figures on the tiled stove.
The state bed in the neo-gothic style and the seat coverings are in blue silk, with embroidered and appliquéd lions, swans, crowns, lilies and the Bavarian coat of arms.
One of the most unusual features is the washstand, with a fountain in the form of a silver-plated swan. Small swans also decorate the washstand set – water jug, sponge and soap containers – which was designed by Eduard Wollenweber.
---