Main information:
Information for visitors
Current information / Coronavirus
For a visit to our sights, the 3G rule applies if the 7-day incidence determined by the competent district administration authority is above 35, i.e. all visitors must either be
vaccinated against Covid-19
(with a vaccine authorised in the EU),

recovered from Covid-19 or

tested negative.
Proof of a negative PCR test (maximum 48 hours old) or rapid antigen tests / self-tests under supervision (maximum 24 hours old) must be BROUGHT ALONG.
No tests will be offered or proof issued on site!
Children up to their sixth birthday, pupils who are subject to regular testing as part of their school attendance and children not yet enrolled in school are exempt from compulsory testing.
You will need to bring appropriate proof (written or electronic).
Here you will find further information and FAQ.
---
Tickets for Neuschwanstein Castle are available online at www.hohenschwangau.de and on premise at the Ticket Center Hohenschwangau (limited capacities).
A visit to Neuschwanstein Castle is only possible as part of a guided tour. Please note that the group sizes had to be significantly reduced due to hygiene regulations.
Please take into account considerable waiting times and restrictions such as altered routes or room closures.
The multivision room and the lift are currently not available. The inner courtyard of the castle can currently only be visited as part of the castle tour.
Opening hours and admission charges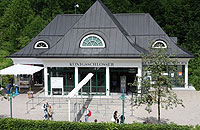 Ticket Center Hohenschwangau
Alpseestraße 12, D-87645 Hohenschwangau
Telephone +49 8362 93083-0
Fax +49 8362 93083-20
www.ticket-center-hohenschwangau.de
How to get from Hohenschwangau to Neuschwanstein Castle
Your admission ticket is valid for a guided tour of the castle at a specific time. We expressly point out that the guided tours start punctually; in the event of late arrival, participation in the guided tour is no longer possible. Please make your way to the castle in good time and plan additional time on site for possible security checks.
Rucksacks, prams, child carriers, and similar bulky objects may not be taken into the palace. Please leave these items in your car or bus.
---
Opening hours
Tickets for Neuschwanstein Castle are available online at www.hohenschwangau.de and on premise at the Ticket Center Hohenschwangau (limited capacities).
Tickets on sale at the Ticket Center
April to 15 October: 8 am-4 pm
16 October to March: 9 am-3 pm
Opening hours of Neuschwanstein Castle
April to 15 October: 9 am-6 pm
16 October to March: 10 am-4 pm
open daily except 1 January and 24 / 25 / 31 December
---
Admission charges Neuschwanstein Castle 2021
15 euros regular · 14 euros reduced
Children and young people under 18 are free.
Important note for families to book online: Children need a free ticket to enter the castle (booking fee 2.50 euros). Please take this into account when booking online.
Details about reduced admission charges, free entrance etc you will find in our general information.
Annual season tickets / 14-day-tickets
With one of our annual season tickets or 14-day-tickets you can visit over forty of the most beautiful sights in Bavaria!
Further information / FAQ
Please note that Hohenschwangau Castle is not administered by the Bavarian Palace Administration and hence cannot be visited with the 14-day ticket, annual ticket or "Königsschlösser" combination ticket!
Further information as well as frequently asked questions (FAQ) about the annual season tickets or 14-day tickets can be found here.