Main information:
Welcome to Neuschwanstein Castle
News about the restoration
Preserving all the features of Neuschwanstein Castle intact is an ongoing task. Therefore, restoration work and restoration investigations are currently taking place. The work is expected to last until 2023.
Nevertheless all rooms are accessible for visitors.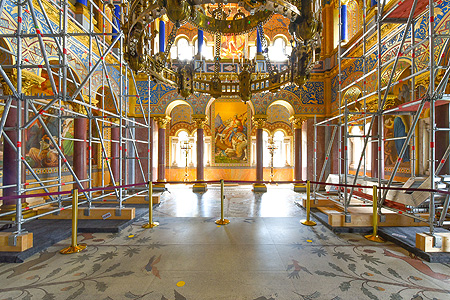 For the restoration work currently underway in the Throne Hall, scaffolding was erected in the southern area; work in the Throne Hall is expected to continue until autumn 2021. We apologize for any inconvenience caused.
---
Marienbrücke closed
Due to maintenance work, the Marienbrücke is closed to visitors until further notice.
| top |
Important information for visitors
The visit of Neuschwanstein Castle is only possible with a guided tour.
Rucksacks, prams, child carriers, and similar bulky objects may not be taken into the castle. Please leave these items in your car or bus.
No photographing or filming is allowed in the castle. Photo and film shootings are basically subject to approval and charges. Here you will find information on photography permits / film permits. Taking pictures of the outside of the buildings for private use does not require a permit.
Neuschwanstein Castle is on the edge of the Ammergebirge nature reserve; it is therefore not permitted to fly model planes or drones /multicopters.
Animals are not permitted in the castle.