Main information:
Welcome to Neuschwanstein Castle
Entrance tickets for Neuschwanstein Castle
Entrance tickets for Neuschwanstein Castle can only be bought at the Ticketcenter in the village of Hohenschwangau below the castle. Further information …
---
Exploratory preservation measures
Preserving all the features of Neuschwanstein Castle intact is an ongoing task. At present we are thus carrying out individual examinations in the state rooms to assess the condition of the interior decoration.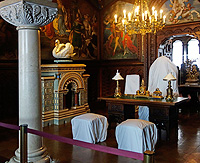 All the rooms will remain accessible for visitors, but as a protective measure some of the curtains have been covered up and others taken down; furniture with textile elements like the king's bed and various stools and chairs have been fitted with protective covers.
Half of the Singers' Hall is currently equipped with scaffolding from which restoration work will be carried out in the following months.
We apologize for any inconvenience caused.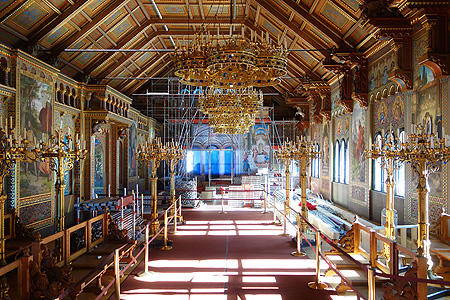 ---
The Marienbrücke in winter
Please note that during the winter months the Marienbrücke, the bridge over the Pollät gorge, may have to be closed in bad weather. To find out whether the bridge and the path to it are open, please contact the Ticket Center in Hohenschwangau: www.hohenschwangau.de. The way to the castle and the guided tours are not affected.
---
Important information for visitors without prior reservation
In our experience, most visitors come to Neuschwanstein between July and September, so that during this time especially, considerable waiting times must be expected. It is also possible that all the available entrance tickets will already have been sold by lunchtime. We therefore recommend that you choose another time to visit Neuschwanstein Castle.
---
Discover the castles of King Ludwig II of Bavaria
| top |
Important information for visitors
Please note that entrance tickets for a particular day may be sold out. We would therefore ask you to reserve your tickets well in advance.
Reserve tickets online
The visit of Neuschwanstein Castle is only possible with a guided tour.
Rucksacks, prams, child carriers, and similar bulky objects may not be taken into the castle. Please leave these items in your car or bus.
No photographing or filming is allowed in the castle. Photo and film shootings are basically subject to approval and charges. Here you will find information on photography permits / film permits. Taking pictures of the outside of the buildings for private use does not require a permit.
Neuschwanstein Castle is on the edge of the Ammergebirge nature reserve; it is therefore not permitted to fly model planes or drones /multicopters.
Animals are not permitted in the castle.
Renovation work at the Gateway Building
Due to renovation work the façade of the Gateway Building is scaffolded at the moment. The work is scheduled for completion by the end of 2018. The way to the castle and the guided tours are not affected.
Hiking trail closed
The hiking trail through the Pöllat Gorge is inaccessible until further notice due to a rockfall. The way to the castle and the guided tours are not affected.