Main information:
Welcome to Neuschwanstein Castle
Tickets
Entrance tickets for Neuschwanstein Castle can only be bought at the Ticketcenter Hohenschwangau in the village of Hohenschwangau below the castle.
Please buy your ticket before you set off to the castle! Your entrance ticket is valid for a guided tour of the castle at a particular time. We would like to explicitly point out that the tours begin punctually. Please allow sufficient time to get up to the castle, as if you arrive too late you will no longer be able to participate in the tour.
How to get from Hohenschwangau to Neuschwanstein Castle
Please note
Neuschwanstein Castle is open daily, also in winter, except 1 January and 24 / 25 / 31 December.
---
The hiking trail through the Pöllat Gorge is inaccessible until further notice due to a rockfall. The way to the castle, the guided tours, and the access to the iron bridge, the Marienbrücke, are not affected.
We apologize for any inconvenience caused.
Information for the disabled
For reasons of organization we ask wheelchair and walker users to book their guided tour beforehand at the

Ticketcenter Hohenschwangau.
Near the castle there is a toilet for the disabled.
---
General information for visitors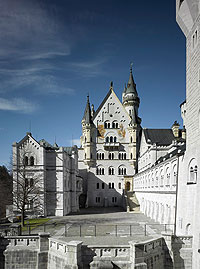 The rooms at the castle can only be visited as part of a guided tour.

No smoking, photographing or filming is allowed in the castle.

Prams, child carriers, large rucksacks and similar bulky objects may not be taken into the palace. There is only very limited space for depositing these items. No liability can be accepted for any objects that have been deposited.

Animals are not permitted in the castle.
---
Ludwig II. – The App

---
Webcam

Webcam Neuschwanstein Castle
| top |