Main information:
Information for visitors
Opening hours and admission charges
Tickets / Ticket booking system
Entrance tickets are available only at the Ticketcenter Hohenschwangau in the village of Hohenschwangau below the castle.

Please buy your ticket before you set off to the castle!

How to get from Hohenschwangau to Neuschwanstein Castle

Your entrance ticket is valid for a guided tour of the castle at a particular time. We would like to explicitly point out that the tours begin punctually. Please allow sufficient time to get up to the castle, as if you arrive too late you will no longer be able to participate in the tour.

Please note that entrance tickets for a particular day may be sold out. We would therefore ask you to reserve your tickets well in advance.

HERE YOU CAN RESERVE TICKETS:
reserve tickets online
info@ticket-center-hohenschwangau.de

Tickets with a specific visiting time can be reserved for an additional prepaid charge two days before the desired castle visit (3 pm local time) at the latest. The visiting time can only be changed or the ticket cancelled up to 2 hours before the start of the tour (also by phone).
---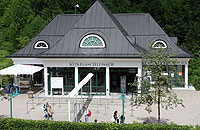 Ticketcenter
Neuschwanstein-Hohenschwangau
Alpseestraße 12, D-87645 Hohenschwangau
Telephone +49 8362 93083-0
Fax +49 8362 93083-20
www.ticket-center-hohenschwangau.de
How to get from Hohenschwangau to Neuschwanstein Castle
Rucksacks, prams, child carriers, and similar bulky objects may not be taken into the palace. Please leave these items in your car or bus.
---
Opening hours
Tickets on sale at the Ticketcenter
April to 15 October: 8 am-5 pm
16 October to March: 9 am-3 pm
Opening hours of Neuschwanstein Castle
April to 15 October: 9 am-6 pm
16 October to March: 10 am-4 pm
open daily except 1 January and 24 / 25 / 31 December
---
Admission charges 2017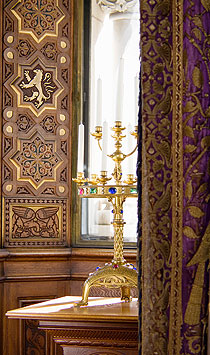 13 euros regular · 12 euros reduced
Children and young people under 18 are free.
Details about reduced admission charges, free entrance etc you will find in our general information.
Königsticket (King's ticket) for both Neuschwanstein Castle and Hohenschwangau Castle on the same day:
25 euros regular · 23 euros reduced
Kombiticket "Königsschlösser"
(combination ticket King Ludwig II's palaces): 24 euros
The combination ticket is valid for six months; you can visit each of the palaces Neuschwanstein, Linderhof and Herrenchiemsee once.
With one of our annual season tickets or 14-days-tickets you can visit over forty of the most beautiful sights in Bavaria!
| top |