Main information:
Neuschwanstein
Tour of the castle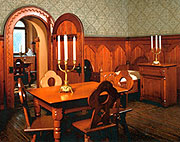 Servants' room
The tour of the palas (the residential part of a medieval castle) begins with a view into the servants' rooms with authentic oak furnishings on the first upper floor.
The rooms on the second floor were never finished and today house a shop, a cafeteria and a multimedia room.
The apartments and state rooms of the king are on the third and fourth floors.

---

If you would like to follow the original route through the king's rooms, please start in the
Lower Hall.
Please click on a room for a view of the interior:
Palas / 3rd floor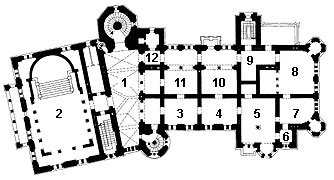 Palas / 4th floor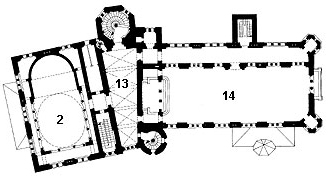 ---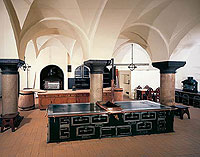 After the guided tour, which ends on the 2nd floor (shop, cafeteria, multimedia-room), the
historic kitchen on the ground floor can be viewed.
Please note: On the page "Building history" you will find a
plan of the castle complex.
| top |